TL;DR
50% Buffs to Pet XP from battles. Pet Week left unchanged.
Level pets can die and still get 50% of possible XP
Huge buff to Yellow and Green stones
Wild pet battle XP further buffed at level
.
In the latest dev notes
Pet Battles

Flawless and family-specific Battle-Training Stones now provide a flat 2,000 experience (was the amount required to gain one level).
Fel-Touched Battle-Training Stones now provide a flat 10,000 experience (was the amount required to gain five levels).
Battling wild pets with a team of comparable-level pets now provides double experience. Pets on your team are eligible for this bonus if no pet on your team is more than two levels higher than any pet in the wild team.
The experience penalty for a pet dying has been reduced to 50% (was 100%). Pets still need to be active for at least one round to be eligible to earn experience from a battle.
All pet experience earned in battles is increased by 50%.

To compensate, the Pet Battle Bonus Event buff Sign of the Critter has been reduced to 100% (was 200%). The net effect of this is that pet experience gained during the Pet Battle Bonus Event will remain unchanged from current values.
Developers' note: Pet battling is a fun and exciting mini-game, but the current incentives result in esoteric strategies being the only optimal choices. This results in a barrier to entry that discourages players from engaging with this system. We believe this set of changes will widen the range of optimal behavior without nerfing any existing leveling strategies.
That's a lot to take in.
1. Level pets don't have to survive
From the devs' note, the core motivation for the change seems to be to make it easier to level pets without the specialised strategies you can find on Xu-Fu's https://www.wow-petguide.com/
So, you will now be able to let your level pet die, and it will still get 50% experience, so you can use sloppier strats on the tamers. I … suppose. I wonder have the devs ever actually, like, MET any gamers, though?

If there is a method that gives 50%, and a method that gives 100%, every single player is going to instantly forget about the 50% method. Like the quality system for pets (grey, white, green, blue) I expect it will be an honourable atttempt that gets ridden over instantly.
2. Buff to all pet XP from all battles outside Pet Week. Pet Week left unchanged
Actually, Pet Week isn't nerfed, because there is a permanent overall 50% buff. So from 9.1.5
All weeks give 150% of current normal XP
Pet Week still gives 300% of current normal XP
3. Big, Big, Big Buff for Yellow and Green stones
At the moment, Yellow and Green stones give very little XP at low pet levels, and much more at high pet levels. A Yellow gives only 50 XP to a Level 1 pet, but 1980 to a Level 24 pet. Now, they will give 2000 XP regardless of the level of the pet, so using a Yellow on a Level 1 will get it to Level 8, and you will need only 12 Yellows to get a pet from 1 to 25.
Chart for XP needed for each level (credit: Jere from his awesome post https://www.warcraftpets.com/community/forum/viewtopic.php?f=10&t=8829 )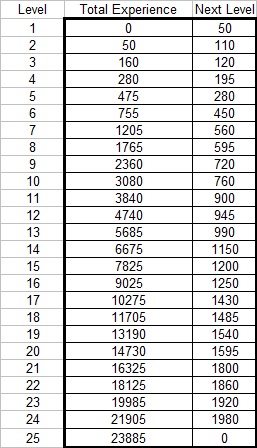 4. Wild battle XP buffed at level
I'm not quite sure who the target audience for this is. I like it. It's nice. It's a kind of throwback to the original days of pet battling in Mists when we didn't have repeatable Legion Tamers and botting scripts and Squirt Day and Pet Week.
It's wholesome to honestly face one wild team with a comparable team instead of nuking tamers from orbit with strategies devised by other people and mashing one same key while watching Netflix, and I hope that some newcomers enjoy and get benefit from it as they level and learn.
I'm afraid it's another honourable effort doomed to drowning in the supercharged catch-up systems, though.